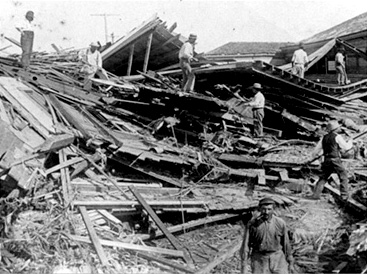 The Great Storm at Galveston hit 8 Sep 1900 (1900 Storm)
The
22 Nov 1900 edition
of The Matawan Journal had a small item on the front page about a mournful family gathering that took place at the home of Mr and Mrs Jacob Doll of Matawan. The Dolls' step daughter, Laura Feigle, and her son, Charles, were visiting from Galveston, Texas, where they had lost practically everything, There had been an especially nasty hurricane back in September, in which they had not only lost their home, belongings and property, but the storm had taken Laura's husband, John, and two of her three children.
Laura's sister, Louisa Mehrtena, also visited the Dolls'. Louisa would be taking in Laura and son at her home in Brooklyn for the immediate future due to the situation. The Dolls' son, Jacob Doll, Jr, of Asbury Park, and a Lizzie Burns, of Brooklyn, also visited the Dolls as well.
The 1900 Federal Census for Texas showed the Feigle household in Galveston as it was a few months before the storm struck. John Feigle was born Feb 1865 in New York to German parents. His wife Laura was born Nov1866 in New York to a French father and German mother. The children were son Charles, born Oct 1887 in Texas, daughter Georgie, born Nov 1889 in Texas, and daughter Mabel, born May 1894 in Texas. John was a cabinet maker and his two eldest children were in school. John and Laura had been married 13 years and Laura's three children were all living.
1900 Galveston Storm Recorded Deaths
, published by the Galveston and Texas History Center, has death listings for a John Feigle, Jr; and Mable Feigle, daughter of John Jr. The listing for Georgie Feigle is either missing or could be muddled in the listings for a George Feigle and daughter of George. I could find no George Feigle in Galveston in the 1900 Federal Census.
Laura's son was Charles Francis Feigle, who was born 28 Oct 1887 in Galveston, Texas. His World War I Draft Registration showed him living in Brooklyn and working as a machinist for a local spring hinge company in 1917. He had already served 5 years in the US military and attained the rank of Corporal. His World War II Draft Registration Card showed him living in Brooklyn and working for Brooklyn Union Gas Co in 1942.
I couldn't find Laura Feigle in the 1910 Federal Census. Perhaps she remarried.
Jacob Doll and his wife (difficult to read her name - possibly Phelessa) lived in Matawan in the 1900 Federal Census. He was born in Mar 1827 in Germany, while his wife was born in Mar 1831 in Germany. Jacob was a farmer who came to America in 1850 and had since become a naturalized citizen.
The "younger" Jacob Doll was a wallpaper dealer in Asbury Park in the 1900 Federal Census. He was born Mar 1852 in New York to German parents.