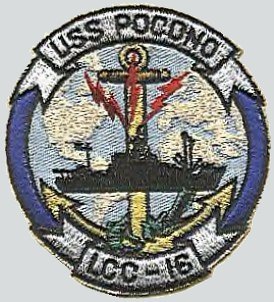 William A McDonough, Sr, of Cliffwood Beach, died at age 73 on Tuesday, according to APP. His obituary says he served in the US Navy aboard the USS Pocono during the Lebanon Crisis. The
USS Pocono Association
shows Bill McDonough, IC-3 E (1956-1959) among
known crew members
.
The USS Pocono was among those ships that, in the summer of 1958, supported President Dwight Eisenhower's decision to land a contingent of US troops in Lebanon to protect key facilities from an insurgency thought to have been supported by Egypt and Syria.
Operation Blue Bat
is now viewed as the first manifestation of the Eisenhower Doctrine.
According to another obituary in APP, Frederick J Formon, a resident of Matawan from about 1940 until about 1991, died on Monday at age 86 in Florida. Mr Formon served as a gunner's mate in the US Navy in World War II, after which he and his brother William established the Formon Brothers Logging Company in Matawan. They operated that firm for 16 years, then operated a commercial fish bait freezer business in Spring Lake. Mr Formon once served as Fire Chief of the Matawan Hook and Ladder Company.
The
Christmas 1952 edition
of The Matawan Journal brings holiday greetings from Matawan Logging. Perhaps that is the Formons' business?
Bill Formon was to appear in black face in the annual American Legion show, "The Minstrel and Gay Comedy Show of 1949," according to the
27 Jan 1949 edition
of The Journal.
The
19 Aug 1948 edition
of The Journal contains an announcement of Mr Formon's brother William's engagement to wed that fall to Ada Fierro. William was operating his own trucking business at the time. Her wedding shower is covered in the
14 Oct 1948 edition
. The wedding date and venue were also mentioned.
Page 5 of the
6 Sep 1945 edition
of The Journal confirms that the Formon brothers served in the war.